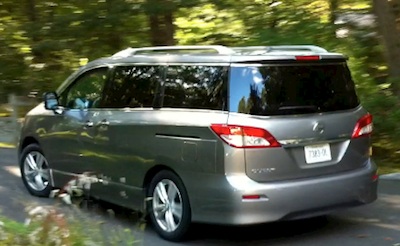 Minivans: Cool? Automakers would love to think that–and they try to sell that idea– but so far, car buyers aren't convinced. So, with a focus on comfort, amenities, conveniences and performance, mini vans have turned a new corner: now, it's all about getting your geek on.
Forget how great they are for travel soccer. Instead, think of it as your own Starship Enterprise. The Nissan Quest LE indulges its captain's inner Kirk, and the passenger's inner Uhuras, in a techno, space-age van.

That was us on a recent 2,550 mile drive to Florida and back: As I commanded the Quest's 16.5' length of seven passenger seating and load space, moving through traffic with ease, (if the Quest seems big, it's nearly to the inch the same as the Toyota Sienna), my thirteen year old daughter co-piloted from the passenger's seat: using the navigation system, she guided us past George Washington Bridge construction, checked the weather for storms headed our way, found the cheapest gas at our first stop in New Jersey, identified the best Zagat rated restaurants for dinner, programmed our favorite XM stations for our trip, and even preset all the Yankee games for when her dad would be commanding the ship. 
And, the Quest is built like a ship: There are no wasted spaces, every possible crevice has a storage use or function, there are buttons for every need, and there is technology to tell you everything right on the center screen, including: 
-Navigation maps, directions, traffic information, speed limit for the road you're on;
-Sound system programming, including source (XM, FM, AM, or iPod) artist, album and more;
-Performance information, including current gas mileage, the mileage range left on the tank, time, outside temperature, and when the car encounters air that needs scrubbing–the Ion Quick Clean icon lights up;
-Phone, contact and call information.
AGirlsGuidetoCars Reviews the 2012 Nissan Quest
Then, there are ports for every device and they are accessible to every passenger: 
-The center console between the front seats has a USB port for an iPod or MP3 to play through the entertainment system;
-There is a very cool 120V plug port in the center console;
-There are A/V ports to plug in a gaming or other systems (Turntables? Stereo tuner? BluRay?); 
-The cargo area also has a 120V port, which made my husband smile."You know what this is for, right?" said my husband. "Hmmm?" "Tailgaiting!" 
If it seems like a lot of technology in this van, it is. But the command center makes it easy: well marked selection buttons and a round toggle control run many of the cabin functions, making the co-pilot's job easy. And, when the co-pilot's shift is over, she can zone out in the second row captains chair and watch a movie on the flip down 11-inch screen, which comes with a remote control and wireless headphones so other passengers can listen to the radio or iPod (the system operates both at the same time, and flawlessly). Even better, if everyone is pooped, drop into Sonic, order dinner, pop in a DVD and watch it on both screens–the fold down screen and the center navigation screen (this feature rocks). And even the 'fragrance' of popcorn, milkshakes and hamburgers will be scrubbed clean by the Ion Quick Clean system, which uses polyphenol to clean the cabin air of impurities from inside or outside. 

Even without a co-pilot in the passenger seat, the Quest becomes your 'co-pilot:' its safety features are like having a second set of eyes at all times:
-Elimination of blind spots with extra wide windows and the addition of two small triangular windows just in front of the front door windows (remember the triangle vent windows that disappeared when air conditioning became standard?);
-Blind spot detectors that sense objects close to the van's sides and flash warning lights on the rearview mirrors, which are oversized;
-A back-up camera with a wide angle lens and guide lines that show you where the van is headed based on the direction the wheels are turned;
-Voice control;
-Bluetooth, which synched automatically–all I had to do was make sure the Bluetooth was activated on my phone;
-Cruise control;
-Steering wheel controls that operate almost all functions, allowing the driver's field of vision to stay focused on the road. 
Like the Starship Enterprise, whose iconic shape carries a promise of the goings on inside, the Quest's distinct design carries a similar pledge: cool, comfort, fun. The squared lines of the Quest's back end tell of its lineage to its little sister, the Nissan Cube.
Its low side panels that extend below the wheel wells, top rails and rear spoiler make it easy to envision surfboards strapped to the roof rack, golden-haired buff bods strapped into the captains seats inside, heads a-bobbing (Red Hot Chili Peppers? Nada Surf? Foster the People?), and all 13 speakers throbbing as they head out to catch some waves. And for that, this van is perfect: it no longer caters just to the juice-box set, but comfortably seats seven tall people and can accommodate their drinks, devices and duffel bags. Oh, and cleaning out the van post-beach? Nissan has thought that through, too: each row has pull out mats that are secured with non-skid backing and plastic tabs to keep them in place but make them easy to remove for cleaning. Very smart.
With all this space and size, I expected the Quest to be a lumbering beast on the road, but not at all. It easily passed all our tests: Its handling was van-like– when full sized vans were converted to carry passengers they had the advantage of being powered by a truck engine. The Quest's V6 260 horsepower engine was ample; it handled just as well fully loaded as completely empty and easily accelerated in the passing lane, getting by slower trucks and cars on the highway. This model also had the advantage of a continuously variable transmission, or CVT, which is all the rage now: this transmission continually changes gears to maximize power and save fuel (as opposed to the standard 3- 4- or 5-speed which shifts
based on acceleration and breaking). Some CVTs are disconcerting because you won't notice the car shifting gears and the engine may sound loud, but the Quest's performance was smooth and quiet. However, I'm not sure it helped with gas mileage: we averaged about 18 MPG during our 2,550 mile trip, just below the sticker's city rating of 19 and way below the highway estimate of 24–perhaps this is because the car was fully loaded: four passengers, luggage and on the way home, a couple of pieces of furniture. 
The model we drove has a sticker price of about $41,000 (the base model starts at $25,500), and while it might seem a steep price for a mini van, overall, it's a good investment; the Quest packs in a lot of comfort and technology for the money.   
My Favorite Quest Features: Automatic lift gate and doors, blind spot detectors, center console with both a 120 V plug outlet and a USB port, purse hooks on the back of the front seats, captains chairs in the center row, most functions operable from steering wheel controls, that the DVD can be viewed on the navigation screen when the car is in park.
13 Year Old's Favorite Features: Second row captain chairs, Ion Quick Clean System,   XM Radio, moveable second row center console, the entertainment system.
10 Year Old's Favorite Features: DVD entertainment system, wireless headphones, plenty of food storage and cup holders (16), reclining center row chairs, second and third row air vents, center windows that roll down and screens that pull up over the windows to block the sun.
My husband's favorite features: 120V port and woofer in the rear cargo area–making the car tail-gate party friendly, under-floor storage well, extensive sports programming on XM, real time traffic and weather, and of course, being allowed to drive!
Disclosure: Nissan provided the Quest for this trip; the opinions and observations are all our own.