Oh, the perks of stardom.
There is no denying that Tesla has always been incredibly innovative.
Which is why it's no surprise that celebrities are also fans. I mean, Tesla can't produce their cars fast enough, so it isn't shocking that celebrities have to get their hands on one of the most sought after electric vehicles. However, I am curious if they get put on the same waiting list as everyone else. Here is a list of some celebrities who own Tesla cars.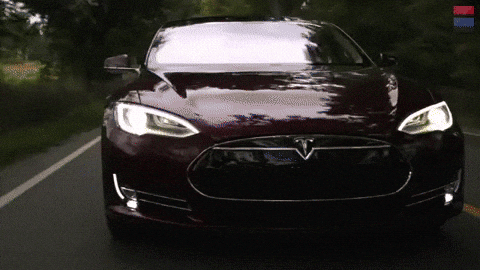 Tesla Models and the Celebrities Who Drive Them
Zoey Deschanel
The "New Girl" actress owns a Model S. I remember when Katy Perry first came out on the scene I always said the two of them looked very similar. Dark hair with bangs, and bright blue eyes. Zoey did win the Critics' choice Television Award for Best Actress in a Comedy Series. And she arrives everywhere in style…in her Tesla S.
Cameron Diaz
From Something About Mary to The Sweetest Thing to Bad Teacher, Cameron Diaz is well known for her comedic chops. However, she has since taken the backseat and kept her life somewhat private, or at least as private as a celebrity can get. Who wouldn't want some privacy, especially because Cameron and her husband Benji Madden welcomed their first child in January of 2020. That baby seat has a special spot in her Tesla Model S.
Jennifer Garner
The 13 Going on 30 actress drives a Model S. Jennifer Garner was married to Ben Affleck at one point who also drives a Tesla. What I love about Jennifer Garner is how wholesome her Instagram is. You can clearly see that she is a person just like the rest of us, and a mom; she just has a little more money than most! And drives a cool Model S.
Jaden & Will Smith
Jaden Smith, son of Will Smith & Jada Pinkett Smith takes after his dad in many ways. The duo have their own sets of Teslas. Jaden has the Model X, while Will has a Model S. Jaden, who starred alongside his father in the 2006 movie The Pursuit of Happiness, has been doing his own thing, from modeling and creating his own music. And he was inspired by Elon Musk which was one of the reasons Jaden started his new bottled water line called "Just Water."
Leonardo DiCaprio
The man who is known for painting a portrait of love interest Rose in Titanic and being nominated for an Oscar six times before finally winning is also an OG Tesla  owner; he owns a Roadster, one of the fist Teslas on the road. A huge advocate for green power, he started his own foundation to help protect ecosystems around the world. He's the perfect example that you can be wealthy, care about the planet and drive an eco-friendly Tesla.
Joe Rogan
While Joe Rogan isn't necessarily a traditional celebrity, he has made a name for himself. He is a fight commentator, stand up comedian, and has had a very successful podcast for years now. Surprisingly, Joe Rogan was not a fan of Tesla or electric cars, and was vocal about it. However, that all changed once Elon Musk agreed to be a guest on his show and Joe bought a Model S. Now, he's also admitted to wanting the Cybertruck.
Electric cars are a thing of the future.
There is a much bigger list of celebrities who drive these beautiful cars – Morgan Freeman, Matt Damon, Jay Leno– I could go on. But mostly, I love seeing celebrities driving these cars because it's a car that us not-so-famous people can purchase as well. And it's definitely one of the top dream cars on my list!