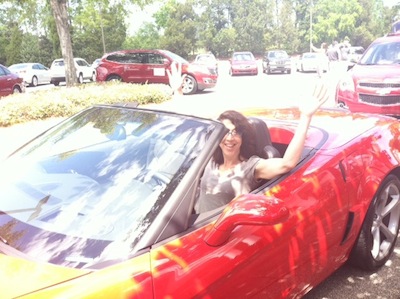 Once upon a time there lived a girl–ok, a mother–who needed to go for a drive. A fun drive, away from the kids and motherly duties.
When her own daughters went out, she always warned them to come straight home, and when this mom when for a drive, she always chose a sensible car.
But one day, she met a man – ok, a Chevy spokesman, and though she knew not to talk to strangers, this man was standing in front of a gleaming red car.
A Corvette.
Oh, what a big engine it has, the mom exclaimed.
The better to take you from 0 to 60, the Chevy spokesman said. The V-8 engine packs a lot of power.
Oh, what horsepower and torque it has, the mom said as she slid behind the wheel and drove the car through the streets of Orlando. And observed the speed limit.
Yes, the better to handle like the sports car it is, the man said.
Yes, oh, how fuel-efficient it is, the mom observed.
Yes, with direct injection and a drop of 99 pounds from last year's model, the new car gets highway mileage of 26 MPG.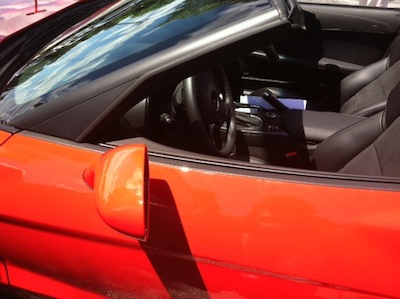 Oh, what sumptuous leather interior it has.
Yes, the better to remind you that the 'Vette is not for driving kids to soccer games. Dirty cleats belong somewhere else.
Oh, what a feeling my hair has, with the wind whipping it around.
Yes, the better to smile and wave at jealous friends. The convertible top lets you be more in the moment  – and the environment – as you drive.
Oh, what a big back seat it has. Just kidding. The 'Vette only has room for two.
And for the afternoon, the mom sped through the magical streets of Disneyworld, passing busses and tourists and breeze-filled palm trees, her motherly cares floating from her mind as she let the 430 horsepower engine transport her into its own magical world. At the end of the drive, she came back down to earth, and back to the test drive parking lot, returning the car to its owner, and leaving a bit happier, freer and smitten with a little red Corvette.


Disclosure: Chevrolet supplied the Corvette for this test drive, and I was Disney's guest during my visit to Orlando. But this story is all my own.