Car Shows: If you want to shop a whole category of cars and make comparisons–like which SUV gets the best gas mileage or which hybrid has the most cargo space, this is the place to do it. But more than that, the major shows, like the New York Auto Show going on this week in Manhattan, are where the auto makers unveil their new offerings, cool concept cars and cutting edge innovations.
And that's what makes it so much fun.

Especially for those–like me– who are picky not just about how a car performs on the road, but also how it performs when it comes to creature comforts. Like heated seats and cooling bins, or convenient spots for a handbag, paint colors that compliment my wardrobe, third row legroom or the comfort of increased gas mileage and reduced emissions; these are things that super-charged horsepower and torque just can't compensate for.
We recently spent three days at the New York International Auto Show (one of them start to finish in four inch heels!), which runs through April 7, 2013, and thought we'd share our favorite things with you.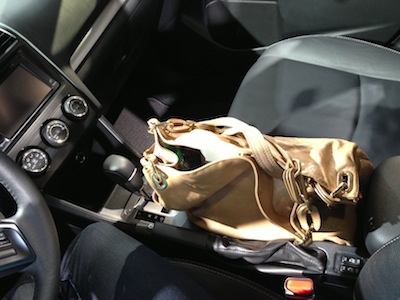 The Subaru XV CrossTrek (above, in eye-catching Tangerine), Subaru's new introduction, not only has great off-road capability and the fuel and emissions benefits of a hybrid engine, but a handbag rests nicely on the center console.
Maybe one of the biggest news stories of the NY Auto Show was Toyota Highlander's introduction of a dedicated handbag space: The center console was redesigned to hold a purse; its top slides back revealing a huge compartment that fit even my oversized tote, yet leaves room to rest your arm while you drive. Wow.
The totally redesigned 2014 Jeep Cherokee made news even before the auto show; it's narrowed front end makes it more aerodynamic, but we really liked the seafoam green paint they chose to show it in. And that light in the front windshield that looks like bad glare? It's actually interior LED lights that line the passenger compartment; GREAT for putting on makeup in the car. Thanks, Jeep!
Orange is always a great color–rich and happy; but this year there were quite a few yummy shades, including this one from Toyota's Prius, called Habanero. It really perks up your mood!
It may still be a concept car, but the Hyundai Genesis HCD 14 may be one of the most beautiful places to store your handbag: the center console runs the whole length of the interior, from front to back, and is filled with luxuries for all passengers. Isn't it gorgeous?
The 2013 Fiat: It's so pretty and petite on the outside, you just know finding a convenient spot for your handbag will be a challenge. But no! My big bag fit right between the front seats and on top of the emergency break. And, it looked pretty nice there, too.
Another favorite innovation (though it was introduced a few years ago) is the Lincoln MKT's tail gate seats: With a press of a button, the third row flips over so you can climb in for a comfortable view of a parade or a soccer game.