I drive an immense 2003 Ford Expedition, a leftover from my Softball Mom days. So, when I was given the opportunity to test drive the 2013 Ford Taurus on a road trip to Rapid City, South Dakota, the gearhead in me said, "Yippee ki-yay!" I've raised a Ford-tough family, thanks to my dad, but driving an SUV all these years, my true car roots had softened; the round-trip test drive cured me and offered me insight into the 2013 Ford Taurus SEL AWD. I returned to Denver with a greater appreciation of the newly redesigned Taurus.

The spacious interior reminded this SUV driver of much bigger carsThe transition from an SUV to a sedan was initially a bit awkward; especially that feeling that I was too close to the ground. Although no doubt lower than my Expedition, the comfortable interior, balanced ride, and huge trunk had me at 'hello!'
The 2013 Ford Taurus promises extra horsepower, a smaller EcoBoost engine (and better fuel economy), and an easier-to-use MyFord Touch infotainment system over previous models.
However, my learning curve proved longer as I'm not known for cabin technology skills. I immediately figured out how to work the Sirius radio, but the other gizmos and gadgets took a bit longer to find and conquer. Once we dug out the owner's manual, our progress improved, but we only tipped the iceberg on the amazing technology inside our Taurus cabin — syncing to your phone, dual temperature controls, and much more.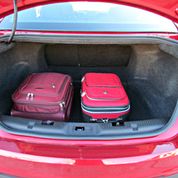 The roomy trunk has plenty of space for a family to load in suitcases, strollers, sports gear and more. My road trip was a girlfriend getaway, and you know how girls pack. Yeah, well, our suitcases looked puny in the oversized trunk, and then we layered our coats, extra shoes, tote bags, purses (which are more like small suitcases), and miscellaneous other girl stuff in the back seat. We had plenty of elbow and leg room in the front seats, and the heated seats were a hit on our winter road trip. The all wheel drive made us feel safe if the weather turned snowy.
The high tech dash has plenty of bells & whistles – you may need to spend some time with the manualWe spent hours on the road – 14 hours round trip from Denver, and once we arrived in Rapid City, touring the Black Hills area attractions; we had plenty of quality time in the Taurus. Whether maneuvering through the Colorado Rockies, winding Black Hills, or the open roads of Wyoming, the Taurus really surprised me; it's not the same Ford my parents drove in the 80s. The biggest surprise was the smooth-as-silk ride, even along the often-bumpy Wyoming highways. It's also sized perfectly for a family of four– or a traveling grandmom like me with two grandkids. And who doesn't like ruby red cars? The only thing missing on my travels were matching red traveling heels — guess I should add a pair to my shopping list!
What We Loved:
Lots of leg room in the driver and passenger seats!
SYNC Voice Activated Systems
Push Button Start with Remote = warm car in the winter, cool car in heat of summer
Heated seats – When it's cold outside, don't you love a warm bum (temp adjustable)?
Dual temperature controls
Comfortable cabin, quiet, smooth ride
Center console–plenty of room for phone, drinking cups, small objects.
Leather seats
Leather wrapped steering wheel
V6, 288 horsepower: lots of pick up and go, even dashing through the mountains!
6-Speed Auto Transmission
HUGE trunk (20.1 cu.ft.)!
All Wheel Drive, perfect for winter driving
What You Need to Know
18 MPG city/26 highway
MSRP $30,650 base price; $35,635 for the model we drove
5-passenger seating, but the backseat is not as roomy as the front
3 year/36,000 mile bumper to bumper warranty
5 year/60,000 power train warranty
5 year/60,000 mile roadside assistance