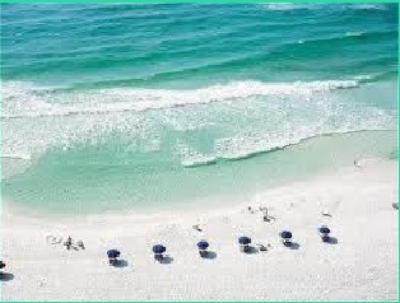 When it comes to a beach getaway, the list of wants is pretty short: Warm weather, relaxing atmosphere, fun things to do. For many years, the panhandle of Florida offered some of those things, but to the uninitiated, its charms could be fleeting: The "Redneck Riviera" was not South Florida's rival.
My, how things have changed.
What was once a sleepy stretch of beach and highway dotted with tourist stops and low-budget motels, the Destin area has become known as "The Hamptons of Atlanta" with lush and luxurious resorts, celebrity sightings and top rate activities including shopping, restaurants and events.
Left Photo: Our day at the beach looked pretty much like this. Credit: Sandestin
Destin's advantages are many: A drivable distance from most places south of the Mason Dixon line, its impeccable white sand beaches and turquoise blue waters rival those of the Caribbean, yet its resorts and communities are more accessible, many offering a luxury class experience.
We spent our Spring break in
Sandestin
,
Destin's
largest resort community. The property hosts hotels, condos and private homes set among beaches, the village of
Baytowne Wharf
, four golf courses, swimming pools, biking trails, tennis courts and a marina. Like neighboring resort communities such as
Seaside
and
WaterColor
,
Sandestin
is a sociable, walkable, bikeable community composed of a variety of architectural styles, some in the tradition of old Florida, others reflecting modern Florida, Italy or Mediterranean aesthetics.
Sandestin
's central village,
Baytowne Wharf
, is a constantly evolving destination filled with shops, restaurants, bars, live music, arcades and at its center, the
Adventure Zone
featuring a zip line, ropes courses, bungee bouncing and a climbing wall.
Photo montage: Baytowne features activities to get your adrenaline flowing (from top): the Zipline across Baytowne, the Sky Trail Ropes Course, and the Tower Climb. Activity prices range from $8-$18 per activity, with discount coupon books available. Credit: Sandestin
During our stay we biked to all on-property activities; baskets on the handlebars accommodated sunscreen and towels or handbags, so trips to the beach or town were easy. Our afternoons were all about thrill seeking: The Baytowne Zipline was at the top of our list, but once the kids saw how high it was they opted for the EuroBungy: Jumpers are harnessed to two bungee cords and, jumping on a trampoline, can bounce 20 feet or higher. Seeing practiced jumpers turn flips and do acrobatics sealed this choice.
Left Photo: The EuroBungy sends jumpers sky-high on a trampoline. Credit: Scotty Reiss
Another big attraction in Destin are the carts. Golf carts are popular among Sandestin's home owners for tooling around the property, and kids love riding around on them. For the rest of us, one of Destin's best attractions is a must: The Wild Woody at The Track, a multi-level, multi-turn wooden go-kart track that offers an authentic and truly fun driving experience. Drivers must be 4'10" to drive a go-kart, and for those who don't make the cut, there is the The Track, a standard asphalt go-kart track, and Rookie Karts for younger kids. Also at The Track are bumper cars, blaster boats (bumper cars on water), mini golf and amusement rides for younger children.
The weather during our visit was perfect for biking and beaching, and typical for April (not unlike summers in the Northeast): warm and sunny days with highs in the 70's, cooler temperatures at night, and an ocean temperature around 70. The weather on Florida's northwest coast is distinctly Southern, not tropical, like much of the rest of the state: Winter temperatures can be downright cold, while Summer is defined by hot, humid days, a searing sun and occasional thunder storms. Spring and Fall are shoulder seasons (and more comfortable for Northern or Midwestern visitors). While Winter is the area's low season, it's not as if Winter is uncelebrated: Sandestin turns Baytowne into a holiday festival with an ice skating rink and towering Christmas tree.
Despite being the hottest season, Summer is Destin's most traveled time: Most visitors drive, and tend to visit during school breaks, creating a lively atmosphere on the beaches and in town. We were happy to visit during the shoulder season, when waits at restaurants and the EuroBungy were short, making the experience all the more sweet.
What we liked most:
Me: Biking around the property–most destinations are far enough to count as exercise but not so far to be overly sweaty (bike rentals pp $25/day, $75/week); mini golf at the Dunes Putting Course ($10 pp); go-karts at The Track (about $9 pp, discounts available); dinner at Tommy Bahama's at Grand Boulevard; outlet shopping at Silver Sands Factory Stores.
Cameron (age 13): Biking around Sandestin, shopping at Baytowne Wharf, Baytowne Adventure Zone, relaxing on the beach.
Estee (age 10): Biking, EuroBungy trampoline/bungee bounce at Baytowne Adventure Zone ($12 pp), swimming in the Gulf of Mexico, go-karts at The Track, the Dunes Putting Course (of course–she won!).
Disclosure: Many of our activities, including bike rental, putting course and EuroBungy were provided by Sandestin Golf and Beach Resort. Accommodations, travel and off-site activities were not.